Founder of The Activity Mom:
Nicole, Mom to a 5 year old son and 2 year old daughter
Before staying home with her two children, Nicole taught 5th grade, 4th grade, and then became a Reading Interventionist. Nicole has a degree in Elementary Education and a Masters Degree in Teaching and Learning.
She quickly discovered that her passion for finding ways to make learning fun would carry over into her home with her own children. She is always searching or thinking of something new that she can try with her little ones and share with other moms.
Featured Writers:
Jill, Mom to a 6 year old daughter, 2 year old son, and a 2 month old son.
After graduating from California State University, Long Beach, Jill went on to teach 1st Grade and 3rd Grade for 6 years. She completed her Masters Degree in Reading Instruction and Design in 2007.
When her daughter was born she opted to leave the traditional classroom and establish an in-home tutoring business. Reading, writing, and early learning are her passions and she loves working with kids to achieve goals.
Jen, Mom to two daughters, ages 8 and 10 and a 3 year old son.
Jen is the author of
Creative and Curious Kids
. Presently she is teaching her children at home via Cyberschool. She has a degree in Elementary Education with a background in the area of Gifted Education. Her experiences include ten years of teaching in grades K-6.
Jen enjoys exploring and creating with her little ones and sharing ideas with other parents and teachers.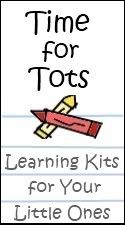 Short on time? Visit Time for Tots! We offer activity kits filled with hands on learning targeted toward toddler and preschool age children.